Satbir Aujla is Latest Punjabi song sung and composed by Satbir Aujla and music of this brand new song is given by Preet Music while Darling song lyrics are penned down by Satbir Aujla video is directed by Rav Dhillon.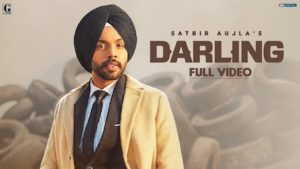 Darling Song Details:
| | |
| --- | --- |
| Song: | Darling |
| Singer: | Satbir Aujla |
| Lyrics: | Satbir Aujla |
| Music: | Preet Singh |
| Label: | GeetMP3 |
Darling Lyrics
Hey Man!
Ha Ha Haan!
Satbir Aujla Hooo
GeetMp3!
Saara Shehar Humein
Lion Ke Naam Se Jaanta Hai
Mona Darling
Darling Jatt Di Zubaan Kaudi Ae
Na Yaaran Beliyan Di Kade Gall Modi Ae
Darling Thaan Thaan Te Raule Jatt De
Sadde Naal Sadde Varge Hi Katt De
Darling Pairan Vich
Paayi Hoi Gucci Ae
Gucci Thalle Mitran Ne
Rakhi Landi Buchi Ae
Darling Roots Naal Jude Hoye Aan
Bap Dadeyan De Raahan Utte
Tare Hoye Aan
Haan Darling!
Lain Nahio Dinde Kade
Pant'an Ton Crease'an Ni
Saddiyan Ankhan De Vich
Badi Aan Tameejan Ni
Nasha Patta Ek Vi Na
Laya Ae Shareer Nu
Paaleya Ae Bebe Bapu
Laake Badi Reejan Ni
Vailiyan Ji Chakni Ni
Dindi Sab Thaar Ae
Bullan Utte Chup
Dass Dinde Akhbaar Ae
Dilan Da Na Haan'ne
Ni Kita Koyi Vyapar Ae
Puchi Pind Kaur Ji Wale Ton
Tera Yaar Ae
Darling Jatt Di Zubaan Kaudi Ae
Na Yaaran Beliyan Di Kade Gall Modi Ae
Darling Thaan Thaan Te Raule Jatt De
Sadde Naal Sadde Varge Hi Katt De
Khulle Khulle Kapde
Style Thode Wakhre
Ni Guttan Utte Ghadiyan
Te Muchan Rehan Chadhiyan
Timepass Karne Da
Time Sadde Kol Ni
Ajj Sadde Piche Gehde
Laundiyan Ne Badiyan
Sadde Layi Manaundiyan
Read Full Lyrics at iLyricsHub: https://www.ilyricshub.com/darling-satbir-aujla/